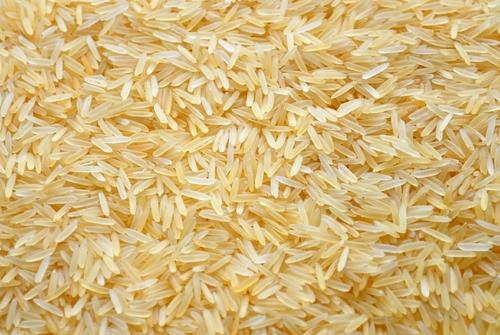 Golden Sella basmati has the luscious aroma of pure Basmati, but with enhanced holding capability and pliability to over cooking. Parboiling is a natural process in which signature basmati is parboiled in its husk to lock-in the nutrients and enables you to prepare this rice without ruining the texture. This process helps in adapting a soft colour and a long narrow shape. Golden Sella Basmati Rice is grown under eco-friendly conditions using gigantic quality of seeds. The milling process involves refined machinery and technology and this process completely differentiates sella rice from normal basmati rice. The main attributes of this rice are great taste, alluring aroma, highly nutritious, elongated size, and lasting shelf life.

Nutritional Facts and Consumption

Golden Sella Basmati Rice helps fray malnutrition as it is a good source of vitamins and minerals, namely Vitamin A, Vitamin C, Iron, Zinc and Protein. It is low in sodium, saturated fats and free from cholesterol and gluten. This rice is not only used in Persian cuisines but add flavour to much Indian rice, Hyderabadi, Mughlai, Continental and Chinese dishes. This rice has a good capability to ingest the flavours of different herbs and spices. Golden sella basmati rice is simple to cook, after cooked non-sticky texture, provides great aroma and adds visual appeal to the dish.

Golden Sella Basmati Rice Production and Supply

In India, Rice is a major food for consumption and main areas for rice cultivation are Haryana, Uttar Pradesh, Punjab, West Bengal, Madhya Pradesh, Maharashtra, Punjab, Tamil Nadu, Karnataka, Nagaland and Assam. The new crop season is from March to August. India is an abode of Golden Sella Basmati Rice manufacturers and Srishti Aqua Tech is the leading Golden Sella Basmati Rice supplier in Ahmedabad. They specialize in providing high quality rice after proper checking and fulfilling the compliance of pre-defined industrial norms. The golden sella basmati rice suppliers in Ahmedabad should take due care of the following relevant aspects-

• They should grow organically and cultivate using high quality seeds and natural fertilizers.

• Golden Sella Basmati Rice suppliers in Ahmedabad should source from authentic vendors who ensure finest quality of rice.

• They should have a separate unit for quality check to ensure its purity and that it is free from adulteration.

• They should ensure complete hygiene while packaging and make them available in food grade packaging material to keep its taste intact for longer duration.

• Golden Sella Basmati Rice suppliers should carefully inspect each batch before the final dispatch to ensure top notch quality.

• They should have a proper warehousing facility to protect it from dirt, stones and insects.

• They should have advanced logistic partners to ensure time delivery of products and client satisfaction.

• They should have enough capacity to meet the bulk requirements of the marketplace at reasonable rates prevailing in the market.

Hence, we can conclude that Golden Sella Basmati Rice is a highly versatile food which is appreciated all over the globe.